10 Ways to Worship the Lord
This post contains affiliate links. If you click & make a purchase, I receive a commission! Thanks! Read my full disclosure policy. As an Amazon Associate, I earn from qualifying purchases.
I love to worship the Lord with other believers in church. I love the singing, the prayer time, and worshiping the Lord for the truth of His Word as it is taught. It feels very much like a foretaste of heaven where we will worship the Lord for all eternity.
But I am so grateful that my worship is not limited to just when I can meet with other believers! I can, should, and do also worship the Lord at home.
I worship Him through music – both listening to it and singing along. Even raising my hands at times!
I worship Him through praise and thanksgiving – and not just during my devotional time, but throughout the day as I recognize His blessings.
I worship Him by praying His Word back to Him and expecting great answers.
I worship Him by spending time in His presence, listening to the gentle whisper of the Holy Spirit.
I worship Him by enjoying the world He created and glorifying Him for it.
Perhaps you also worship the Lord in these ways also. Or maybe, your personal worship feels a bit stale. Wherever you find yourself as you read these words, I pray you will find encouragement to spend time in the presence of God today, simply worshiping Him.
From the list below, you may find new ideas to try in your personal worship time. Or you may find that some of these suggestions don't resonate with you. Or you may find an item that gives you a completely new and different idea.
Think about how creative our God is – just look at the variety in nature! – and allow your worship time to be creative as well. What matters most is not what you do, but your heart attitude. So be adventurous and stretch yourself to worship in a new way. You may find a renewed awareness of God's presence as you worship in unfamiliar ways.
And remember, this list is not exhaustive. Our God is a creative God and He loves for us to use the creativity He has gifted us with to worship Him.
What matters most is not how you worship the Lord but your heart's attitude toward Him. 10 Ways to Worship the Lord
Click To Tweet
Worship the Lord with Music
So often we equate worship with music. But it isn't the same thing – you can worship without music. However, music is an avenue of worship that can direct your heart to the Lord.
I believe the Lord created music just for this purpose. Job 38:7 says that the "morning stars [the angelic host] sang together" at the creation. Before God created the Earth and all that is in it, including humanity, he created the angels to worship with song. The Psalms include more than 100 references to singing and music. Obviously, music is important to the Lord.
Sing a new song to the Lord; let the whole earth sing to the Lord. Psalm 96:1
Worship through Prayer
You can worship the Lord in prayer no matter where you are. God delights to hear our prayers (Psalm 66:19-20; Revelation 8:3, 4). He delights in answering them. He delights in blessing His children. Even when, or maybe especially when, it is hard to pray – pray. When praying is a sacrifice, it is both worship and prayer.
While God delights to hear your prayers no matter what words you use, there is something special about praying Scripture. Praying the Scriptures back to the Author is a powerful way to worship. If you don't know how to start praying Scripture, turn to the book of Psalms. The Psalms were the worship book and prayer book for Israel, so it's a perfect place to start.
Choose your favorite psalm, and simply personalize it back to the Lord. Here's an example I have used frequently:
Psalm 37:1 says, "Do not get upset because of evildoers, Do not be envious of wrongdoers." I would pray that verse back to God like this:
"Lord, help me to not be upset because of ______ [fill in the blank with the person and/or situation you're facing]. Help me to trust in You instead of envying what ____ seems to have or enjoy [name that item if it helps]."
Continuing with Psalm 37 (a favorite of mine), verses 7-8 say, "Rest in the Lord and wait patiently for Him;
Do not get upset because of one who is successful in his way, Because of the person who carries out wicked schemes. Cease from anger and abandon wrath; Do not get upset; it leads only to evildoing."
Here's how I have prayed those verses: Lord, help me to rest in You and wait for You. It is so hard when I see ______ being successful and I'm suffering with _______. I know You are the Righteous One who makes everything beautiful in time. Help me to lay aside my anger at ________ and trust in You.
More about prayer:
May my prayer be set before you as incense, the raising of my hands as the evening offering. Psalm 141:2
Worship through Praise and Thanksgiving
There are more than 250 verses in Scripture that speak of praise – almost 150 in Psalms alone! To give you just a taste, check out Psalms 146 – 150. Praise means simply telling God how great He is – praise Him for His love, His forgiveness, His patience, His creation, His gifts, for anything and everything.
Thanksgiving is similar. Instead of praising Him for who He is, you express your gratitude for what He has done for you personally. Got two eyes to see? Thank Him. A roof over your head? Thank Him. Food on the table? Thank Him. Thank Him in everything (1 Thessalonians 5:18).
Hallelujah!
My soul, praise the Lord.
I will praise the Lord all my life;
I will sing to my God as long as I live.
Psalm 146:1-2
Worship through Confession of Sin
Sin breaks the heart of our Father. He weeps to see His children making wrong choices, just as any loving parent would. But He has made a way of redemption.
If you are a child of God, all you need to do is admit your sins to Him, ask for His cleansing, and commit to not sinning again. It doesn't mean you won't sin again – but that you are seriously committed to trying in the power of the Holy Spirit to not sin again. Need inspiration? Go to Psalm 51.
In [Jesus] we have redemption through His blood, the forgiveness of our trespasses, according to the riches of His grace that He richly poured out on us with all wisdom and understanding. Ephesians 1:7-8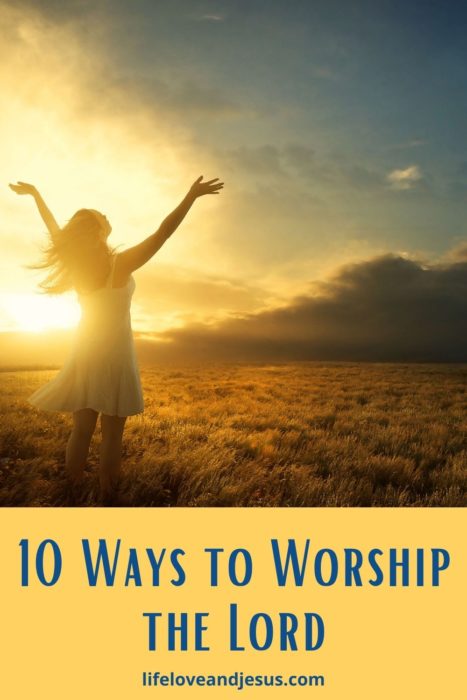 Worship through the Word
Spending time in the Word every day is another way to worship the Lord. God has given you the Bible and wants you to read it, study it, live by it, and love it (Psalm 119:97, 113, 163). Psalm 119 is a beautiful tribute to the Word. If you want to fall in love with the Word, spend a few days there. You could even spend an entire month – taking one 8-verse section per day and praying and praising through it.
If you want more guidance on reading or studying the Bible, check out these posts:
A Bible Study Method for Growth and Should You Read Through the Bible in a Year?
The law of the Lord is perfect, restoring the soul;
The testimony of the Lord is sure, making wise the simple.
They are more desirable than gold, yea, than much fine gold;
Sweeter also than honey and the drippings of the honeycomb.
Psalm 19:7, 10
Worship the Lord in Silence
Music, prayer, praise, thanksgiving, and confession are ways you can speak to God. But God doesn't just listen to you and me. He also speaks.
The two most common ways for the Lord to speak are through His Word and in silence. The importance of the Word was mentioned above – and it is so very important.
But being silent before the Lord is also important. Silence is almost a lost art in our culture. Even while going for a walk, many people have earbuds in and listen to a podcast or music. I'm guilty of this as well. But the truth is, God speaks in the still, quiet parts of your day and life.
Learning to "be still" (Psalm 46:10) takes effort and intention. But the rewards are worth it. Offer 10 minutes of silence to the Lord as a moment of worship. And then listen for what He wants you to know. Just a word of warning, though – what God says to you in silence will never contradict what He has already said in His Word.
But when He, the Spirit of truth, comes, He will guide you into all the truth; for He will not speak on His own initiative, but whatever He hears, He will speak; and He will disclose to you what is to come. John 16:3
Worship through Giving
When you worship the Lord through giving, you are saying to God, "All I have is Yours." God does not need your money, but He wants your heart. He does not need your time or talent, but He invites you to partner with Him in sharing the gospel.
Giving is worship because it is a privilege and an act born out of love, not from a command. The Lord does not need anything from His creation – but He blesses us with the opportunity to participate in the Kingdom of God by giving back a portion of what He has first given. One important reason believers should worship through giving is because of the example of Jesus: He gave "His life as a ransom for many" (Mark 10:45).
Give, and it will be given to you. They will pour into your lap a good measure—pressed down, shaken together, and running over. For by your standard of measure, it will be measured to you in return. Luke 6:38.
God does not need your money, He wants your heart.
Click To Tweet
Worship through Serving
Serve others, serve at the church, serve your family. Serve because Jesus came as a Servant (Matthew 20:28; John 12:26).
One way to serve others is to ask them a simple question: "How may I help you?" This question first entered my life through The Prayer of Jabez, by Bruce Wilkinson. It was explained more fully in You Were Born For This, also by Bruce Wilkinson. Another way to serve others is to read what the Bible says in all the "one another" passages and live them out (John 13:34; Romans 14:19; Galatians 6:1-2; James 5:16 – and more).
For you were called to be free, brothers and sisters; only don't use this freedom as an opportunity for the flesh, but serve one another through love. Galatians 5:13
Worship through Nature
Worship the Father through spending time in His creation. Nature testifies to the spectacular, amazing creative powers of the Lord and His greatness and glory (Psalm 19:1-6).
As you walk through a park, praise God for the cardinals and bluebirds, for the turning of the seasons, for the oxygen you breathe, and for the sun that shines in a blue sky. Let nature do its job in helping you turn your eyes to the Lord.
The heavens declare the glory of God and the expanse proclaims the work of his hands. Psalm 19:1
Worship in the Daily-ness of Life
God does not despise the small offerings we give Him (Mark 8:7; 12:42). So, in the daily-ness of life, worship the Lord by being faithful in the small jobs He has given you.
The daily-ness of life is different for everyone. It may include laundry, dishes, working at a job you just barely tolerate or one you love, raising children, and paying bills. Faithfulness in small things results in larger opportunities to be faithful (Luke 16:10; 1 Corinthians 4:2).
What does worshiping in the daily-ness of life look like? Here are just a few examples: Praise God for children who make dirty clothes while doing the laundry. Thank God for a healthy family while fixing meals. Listen to God speak to you in the quiet of your commute as you turn off all outside noises. Sing worship songs to Him in your car. Spend time in prayer for those less fortunate than you after you finish paying bills or giving a tithe to your church. Ask Him to show you creative ways to worship Him throughout the day and He will.
Because of the Lord's faithful love we do not perish, for His mercies never end. They are new every morning; great is your faithfulness! Lamentations 3:22-23
Worship should be a specific time in our day and our week that we set aside to spend with the Lord. But it should also be a lifestyle. A heart that turns to God throughout the day, in praise, in prayer, in service, is a heart that is daily worshipping the God who deserves all praise. To learn more about what worship is you can check out this post or this great article by J. Vernon McGee. He's with the Lord now, but his words still ring true. For more ideas of daily worship, check out Deb's post at Counting My Blessings.