This post contains affiliate links. If you click & make a purchase, I receive a commission! Thanks! Read my full disclosure policy. As an Amazon Associate, I earn from qualifying purchases.
God's Word was given to us for encouragement, guidance, wisdom, correction, peace, support, and to teach us the way of salvation and more. Unfortunately, many believers spend little time in the Word. My question to you is, "Are you ready to learn how to study the Bible? Are you ready to dig deeper into God's handbook for life?"
I hope the answer is yes. Because you will never regret spending time in the Word. In fact, the more you study the Bible, the more you will want to study it. Plus, the more your study the Bible the more the Bible will change your heart, mind, and life.
Make Time for Study
I understand that finding, or rather making, time for Bible study is challenging. When I was young, before marriage, before kids, before mortgages and jobs and multiple moves – when I was young and newly saved, my time with the Lord was easy to come by and sweet. I was saved at age 17 and dived into studying the Bible as if I had just learned how to breathe. It was everything to me, and making the time for devotions, study, memorizing, and simply reading the Word was simple.
Then I got married and soon had two babies. Life was a little more complicated. I was blessed to be a stay-at-home mom for many years, as I homeschooled through 5th and 8th grades for our two boys, but even without the pressure of an out-of-the-home job I struggled to get into the Word consistently.
As life progressed, I learned to manage my time and responsibilities better so that I had more time to learn how to study the Bible for myself. Although I was a Bible college graduate, I still needed to learn how to study the Bible personally. Because – just like riding a bike – the only way to really learn is to do it!
So, no matter where you are in this season of life, I am encouraging you to start learning for yourself how to study the Bible. I know it will be challenging. Trust me – the enemy doesn't want you in God's Word. Do what you can, make the time, and you will learn and grow gradually. In 10 years, you'll look back amazed at how much you have learned!
Steps in Studying the Bible
Before starting any Bible study, you must spend time in prayer. You should pray, confess your sins, and ask for the Spirit to guide your study and open your spiritual eyes and ears. Do not gloss over this point: studying the Word will become a rote practice or a distant memory without the aid of prayer. Pray first. Always pray first.
How to Study the Bible: 4 Steps
Step 1:
Be consistent in Bible Study. The best way to do this is to schedule your Bible study time just like you schedule doctor appointments. Put it in your calendar and then keep the appointment! I usually try to spend one or two days a week in Bible study each week. I encourage you to start with at least one hour for one day a week.
Let me pause here for a moment and draw a distinction between several ways of being in the Word, all of which are useful, but not all are Bible study. Even though these methods are not Bible study, they still have value. All should be a part of your 'Bible habit.'
Different Ways of Reading the Bible
Simply reading the Word; for example, reading through the Bible in a year
Reading a devotional that includes a verse or short passage of Scripture
Memorizing and meditating on the Word
Working through published Bible study books, with or without a video series
Step 2:
Your study must be systematic. In other words, pick a portion of Scripture and stay there until you're done. Choose one passage, and stick with it – not necessarily an entire book, but a unit that makes sense. You might choose to study one Psalm, such as Psalm 19, 51, or 100. Or you might study the Sermon on the Mount in Matthew 5 – 7. Or you could choose a specific event or person, such as the life of Peter or the resurrection of Jesus.
Once you decide what you'll be studying, you need to decide when you'll study. Will you set aside time every Saturday from 5:00 a.m. to 7:00 a.m. or Tuesday evenings from 8:00 p.m. to 9:30? Collect any supplies you'll need – a notebook, pens and pencils, Bible, reference books. If you aren't prepared, you'll be less likely to be consistent.
Step 3:
Write down what you learn. You will need a journal, notebook, or another way of recording your notes, insights, and applications. A written record of what God is teaching you will become a treasure and a remarkable history of your growth in faith. An important part of this journal will be recording how you will apply the truth of God's Word to your life. Bible study without application is just hoarding knowledge, not changing your life.
Step 4:
Share what you learn with someone, somewhere, somehow. This final step is often not done but will benefit you. Sharing what the Lord is teaching you makes you more likely to follow through with an application and will encourage whoever you share with to get into the Word themselves.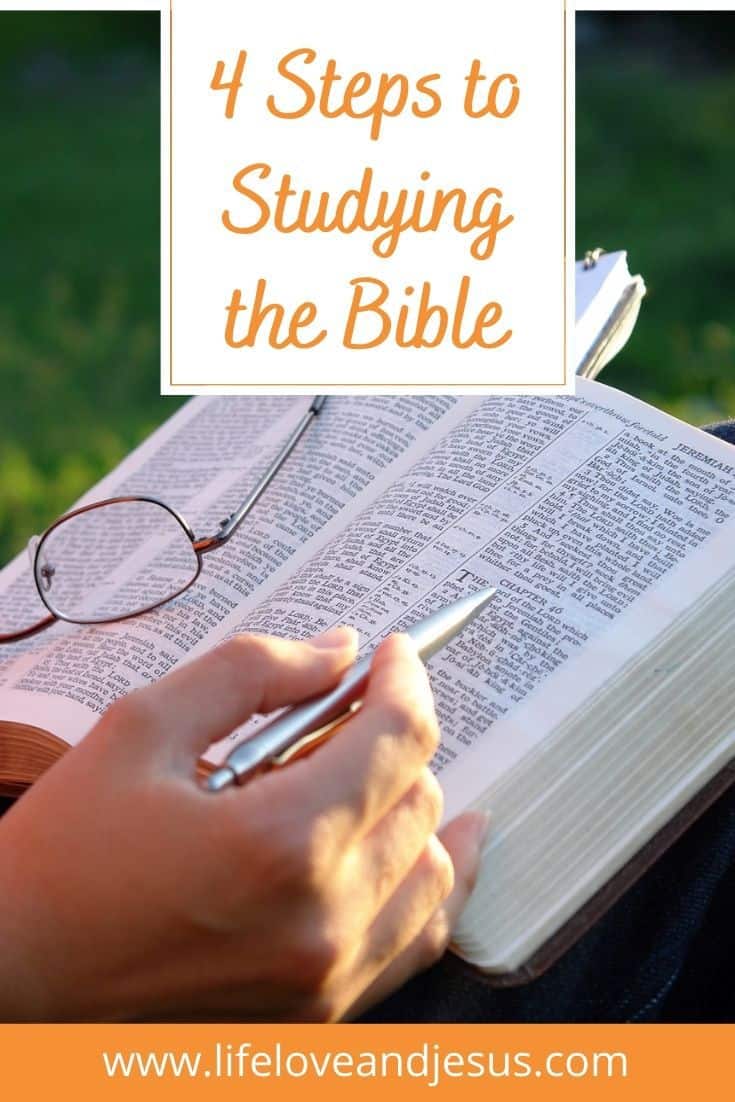 Make Your Plan Today
Decide where you want to start studying the Bible and when you will study. I've already mentioned scheduling time for Bible study. But you also need to decide what you will study.
For example, you might choose to read through the New Testament in one year during your devotional time by reading one chapter a day, five days a week. Then you could set aside 2 – 4 hours every weekend in more intensive Bible study.
Perhaps your first study will be on the topic of wisdom. If you've never done a topical study before, this is actually a fairly easy way to start with Bible study. You can learn more about doing topical studies here.
Or maybe you want to learn more about Sarah, Abraham's wife. You can read about how to do a biographical study here. The point is to make a Bible study plan and then stick to it.
Commit to indepth study time one or two days a week, and see what God can do in your heart and life.